Datacenter and Facilities
Our Facilities
The cloud is more than just infrastructure. At VerticalSwitch, we give you a no-compromises solution seamlessly integrating the best facilities, blazing all-SSD servers, and software to enhance your business.
A server is only as stable as the data center it resides in. Our data center features fully redundant N+1 power feeds, generators, UPS, and cooling systems.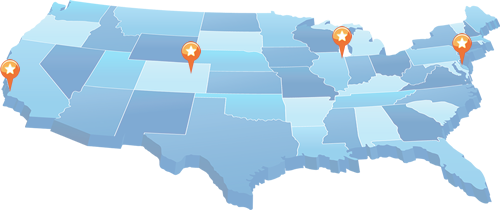 Datacenter Facts
Electronic Key Entry System
N+1 Redundant UPS Power Supply
Diesel Generators
N+1 Redundant HVAC
Redundant Core Routing
FE-25 Gas Fire Suppression
Physically Diverse Fiber Conduits
Multiple Tier 1 Connectivity Providers
Your server is connected through 6 different Tier 1 connectivity providers on a multi-homed, redundant network featuring Gigabit and OCx Internet connections ensuring that your website will still remain online and accessible.

Our fiber optic connections enter the datacenter through physically separate conduits in order to maintain your site's connectivity in the unlikely event of a fiber cut.

We utilize a redundant routing architecture including hardware failover and Cisco HSRP (Hot Spare Router Protocol) to guarantee uptime.

We keep the datacenter at the ideal temperature and humidity level with redundant Liebert HVAC and climate control systems.

FE-25 gas fire suppression protects your data from fire damage and allows us to avoid water damage from a sprinkler system discharge.

We employ advanced power systems to insure the continuous operation of your servers. Our entire power distribution system is designed for maximum redundancy including diesel power generators, central Powerware UPS, and K-Rated transformers.

Our technicians build and deploy your server with high quality brand name components within hours of placing an order. At VerticalSwitch, we understand what it takes to guarantee 100% uptime, and all components are kept in stock to ensure fast upgrades and a guaranteed 2 hour service level agreement on failed hardware replacement.